Necessary Fictions: Therapy as the Critique of "Stories" – A Talk Based on His Recently Published Book "The Broken Mirror: Refracted Visions of Ourselves" – Presented by Dr. James Hollis
March 3 @ 7:00 pm

-

8:30 pm

EST

$2.00 – $50.00
This will be a zoom program. To register, please scroll below to "Tickets". CEUs (1.5) are available for licensed psychologists. Cost is $15 for non-members and $2 for members. Scroll below to purchase. We are so so sorry but because of a change in our systems processing and the delay that resulted, we have not been able to secure approval yet for CSWMFT CEUs, though it is working its way through the CSWMFT system, which is separate from the OPA system. We hope we receive it before March 3 but we cannot guarantee it.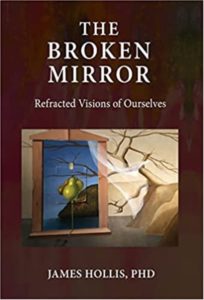 We are creatures who need to understand, at any cost.   And so we "story" our experiences, and those stories, provisional, localized, and often created at an early stage of our history, become defining narratives.   The disarray of our histories nevertheless can be a powerful clue to the "meta-stories" to which we have been in service for many years.   Therapy can be understood as the identification of and critical analysis of our operative or "meta-stories."    Until these "narrative interpretations" can be smoked out, we remain their captive.  In a series of questions, we will be invited to examine the stories we have been serving, and then engage stories that honor what wants to unfold from within us.
 Learn why we create "stories" to explain our lives, and then get trapped by our stories.
Differentiate the "story" of the complex from a "meta-story" that governs a client's life.
Support the growth of a "story" larger than those generated by the client's necessary defensive narratives.