The Profound Influence of Faust on Jung, Presented by Terry Malinowski and Sandy Pfening
February 11 @ 10:00 am

-

12:00 pm

EST

Free
This program will be delivered both in-person (1320 Cambridge Blvd., Columbus, Ohio) as well as by zoom. To register, please scroll below. A zoom link will be sent to all registrants.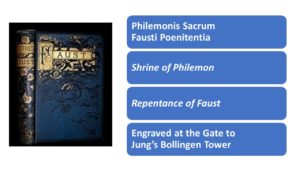 In Goethe's Faust Jung found a key to understanding how individual consciousness is integrated with the personal as well as the collective unconscious.  Jung used this story as source material for the psychology of the individuation process.  Goethe's drama begins with the deeply human confrontation of good and evil, in the form of the psychological shadow.  Part Two describes the alchemical transformation of leaden instinctual drives to the gold of transcendence. Here is that remarkable place in human consciousness where power is not defined by personal drives nor collective archetypes.  Instead the self unifies and embodies "the eternal feminine", which Jung describes as "sapientia dei".
(adapted from J. Gordon Nelson – CG Jung Institute of LA) 
Terry is originally from the Western NY area. After graduating from engineering at Purdue, he joined the Peace Corps. He served as a volunteer on the island of Pohnpei in the South Pacific for six years in the early 70s. Living in a traditional island culture for several years significantly shaped his world view. He became fluent in the language and culture and served as a cross-cultural teacher in two Peace Corps training programs on Pohnpei. After Peace Corps, he lived in Honolulu for 17 years where he completed 3 graduate degrees including one in cultural anthropology. In 1993, he moved to Columbus, Ohio where he continued working in health care until 2013. Terry has been active with JACO for over 25 years and has presented over 10 lectures on a wide variety of topics to the Jung Haus over the years. He also has worked with different Jungian analysts for over the past 30+ years. For the past few years, he has been studying Friedrich Nietzsche writings and his significant impact on the work of Carl Jung.
Sandy is a long-time member of JACO and highly regarded Jungian scholar who has presented many rich programs as well as co-presented with Terry. She has served JACO in multiple leadership roles.
On February 1 the JACO web site will feature a virtual art exhibit of Faust cameos, accompanied by references to Jungian psychology.
Tickets are not available as this event has passed.