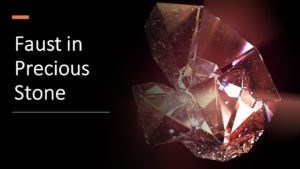 In Goethe's Faust Jung found a key to understanding how individual consciousness is integrated with the personal as well as the collective unconscious.  Jung used this story as source material for the psychology of the individuation process in our modern age.  Goethe's drama begins with the deeply human confrontation of good and evil, in the form of the psychological shadow.  Part Two describes the alchemical transformation of leaden instinctual drives to the gold of transcendence. Here is that remarkable place in human consciousness where power is not defined by personal drives nor collective archetypes.  Instead the self unifies and embodies "the eternal feminine", which Jung describes as "sapientia dei".  (adapted from J. Gordon Nelson – CG Jung Institute of LA) 
The images in The Faust Cameo collection were provided by the Lizzadro Museum of Lapidary Art in Chicago, with the generous authorization to showcase them in this virtual art exhibit. The cameos were carved by Dieter and Andreas Roth and are based on the archetypal story of Faust.  The collection is unique, not only as rare two-sided cameos but as a themed series of fourteen exceptionally carved large agates. It took seven years to complete.  Dieter and his son Andrea are based in Idar-Oberstein, Germany, where they carry on an internationally acclaimed family tradition of agate carving and stone cutting.  Dieter's father was a diamond cutter and Dieter served a 15 year apprenticeship with the famous cameo carver Richard Hand, thereby earning his Master Craftsman status. His son Andreas graduated from Idar-Oberstein's School of Lapidary Arts, and since his apprenticeship has become an award-winning stone carver. 
JACO prepared companion text for each cameo in the collection, referencing aspects of Jungian psychology explored by Edward Edinger in his book, "Goethe's Faust: Notes for a Jungian Commentary." On February 11 JACO members Terry Malinowsky and Sandra Pfening will present a program on Jung and Faust. To register:  https://www.jungcentralohio.org/event/the-profound-influence-of-faust-on-jung-presented-by-terry-malinowski-and-sandy-pfening/
A rich treasury of the cameos and the Faust story can be found in Faust in Precious Stone: Cameo Carvings by Hans Dieter Roth and Andreas Roth. This gloriously illustrated book also provides details about agate formation, the carving process, and the Roth Family of Gem Carvers. Written by Bruce McKay, a retired jewelry designer and manufacturer, gemologist, gem dealer, and teacher, and edited by Dorothy Asher, Director of the Lizzadro Museum of Lapidary Art. To purchase the book, scroll to the bottom of this page: https://www.jungcentralohio.org/event/virtual-art-exhibit-faust-in-precious-stone/
To visit the virtual art gallery, just move your cursor over any thumbnail image below and you'll see the title of the piece and a  "+" – then click and the image will expand for you. 
The Jung Association Gallery features artists whose work reveals their journeys of individuation. 
Thank you for your interest in our gallery. To receive information about upcoming exhibits and workshops/artist talks, please send your name and email to jungaco@jungcentralohio.org
If you are interested in exhibiting at the Jung Association Gallery, please contact us at 614-291-8050, to leave your name/contact info.
PAST EXHIBITS