Love, Power, and the Paintings of Remedios Varo
September 9 @ 10:00 am

-

3:00 pm

EDT

$2.00 – $70.00
Presented by Dennis and Rebecca Pottenger, authors of "Alchemy, Jung, and Remedios Varo"
The morning lecture (10 AM to Noon) is both in-person and online
The afternoon experiential workshop (1 PM to 3 PM) is in-person only
First Unitarian Universalist Church, 93 W Weisheimer Rd, Columbus, OH 43214     To register scroll below to tickets. CEUs are available: 2 for the morning session and 2 for the afternoon session. You will find separate tickets for the CEUs. Pricing is based on member and non-member status. There is a program registration fee discount if you register for both the morning AND the afternoon sessions. Scholarship assistance is available –  email jungaco@jungcentralohio.org.  PLEASE NOTE WHEN YOU SCROLL BELOW TO TICKETS: THERE IS A MEMBER REGISTRATION TICKET FOR MEMBERS OF JACO AND A SEPARATE MEMBER REGISTRATION TICKET FOR MEMBERS OF The Greater Cincinnati Friends of Jung, the Jung Education Center of Cleveland, and the Jung Association of the Miami Valley
See images (the Pottenger's Power Point slide show) of Varo's work in the Art Gallery at this location:
https://www.jungcentralohio.org/gallery/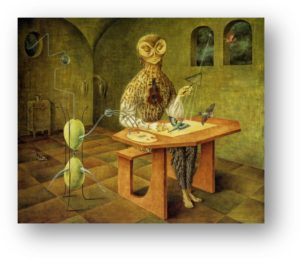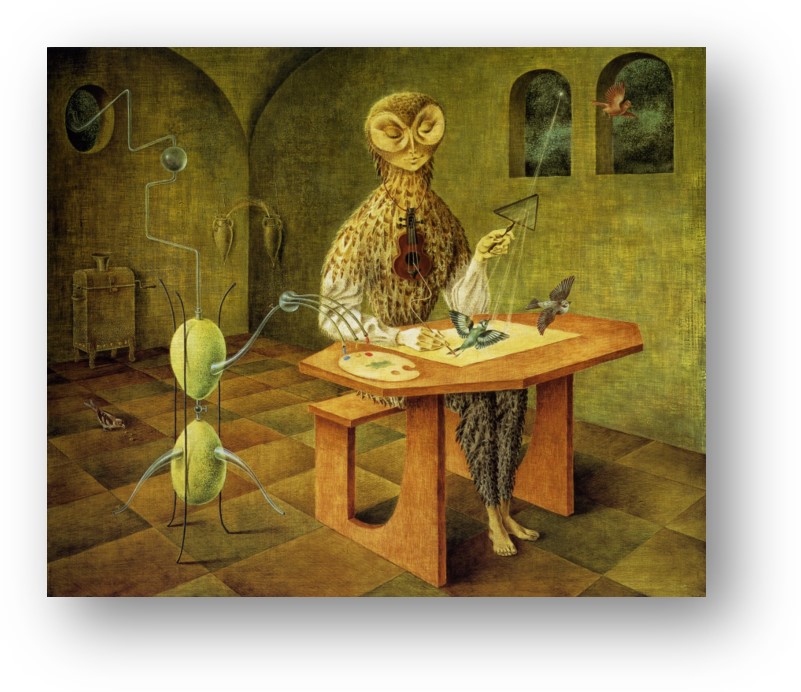 Patriarchy is a word that triggers strong emotion.  Men can feel defensive and attacked, made to feel bad or wrong.  Women feel oppressed, silenced, annihilated.  As a system of power and domination, patriarchy hurts people of all genders, and all of us are needed to create a world that works for everyone.
How can we, as female, nonbinary, and male persons work together to transform a culture that harms us all by misusing the archetypal masculine and feminine principles present in each person for the purposes of power and domination?
How can we make a world based on inclusiveness, equality, and psychological wholeness—a world in which people of all genders embody the integration of both rationality and feeling?
The paintings of Remedios Varo engage the viewer in a mercurial movement of misty swirls and eerie distortions of perspective. Her figures are isolated and often confined in secluded spaces—a tower or forest—and held captive by unknown forces. Personally engaged in spiritual practices dedicated to self-knowledge, in her paintings Varo often depicts a relationship between human figures and a mysterious force from which an essence is being extracted, woven, or brewed.
Varo was 55 years old when she died unexpectedly of a heart attack in Mexico City in the fall of 1963. Since then, the art and life of this traumatized and reclusive artist has been carefully investigated—each painted image marveled at and inspected in a bid to pinpoint the origin and allure of imaginal characters who are determined to seek out the numinous unseen forces that animate human life.
Today, Varo's work is being re-discovered by a new generation.  In this half-day presentation and experiential workshop, Dennis and Rebecca Pottenger explore the transformative presence of the archetypal Feminine in Varo's artwork as the artist challenges the mythic underpinnings of patriarchy and through her paintings re-imagines a male-dominated world that can now embrace the presence and power of women and the Feminine in people of all genders.
In both the online and in-person portions of the program, Dennis and Rebecca host a space in which the presence and perspective of each participant is welcome and valued.
This program is based on Alchemy, Jung, and Remedios Varo: Cultural Complexes and the Redemptive Power of the Abjected Feminine, the book Dennis published in Routledge's Research in Analytical Psychology and Jungian Studies series in 2021. Rebecca edited the Varo book and wrote the introduction. Here is a link to an excellent review of the book by Narelle C. Bouthillier that offers very insightful Jungian commentary:
https://jungianjournal.ca/index.php/jjss/article/view/216/131
This is an excerpt from the review:
"As they show, Varo's paintings form a series of unique alchemical emblems created from the feminine perspective. The authors challenge depth psychologists and researchers to consider that a feminine form of alchemy does not look like the masculine form of alchemy as we have tried to understand it primarily through the works of Jung. Women participated in classical alchemy; however, in traditional alchemical images, they did so largely from the male perspective. Even Marie-Louise von Franz, Jung's closest collaborator in his alchemical studies, noted in her biography of him, C.G. Jung: His Myth in our Time (1972), that he only "took up the rejected masculine-spiritual half of the hermaphrodite" (p. 235). Although the feminine side of things deeply influenced Jung's character, life, and work, his study of alchemy is missing a deeper analysis of the female experience of it. The Pottengers considered Varo to be "a female alchemical adept" (p. 29) who "read and studied Jungian psychology" (p. 6) and alchemy—as the influences of alchemy can be clearly seen in her paintings. The authors have now taken up the rejected feminine-spiritual half of the hermaphrodite and have made a major contribution to the study of the female experience of alchemy and alchemical transformation in the psyche. The book also provides us with knowledge about Varo's initiatory and metaphysical (p. 62) quest to weave (p. 7) and birth (p. 35) healing forces out of the darkness of her own deep and harrowing trauma into this world through her art, not only for herself, but also for the collective (p. 66)—a main argument of the book."
Over the first 90 minutes of the program Dennis and Rebecca follow the Varo book and explore the symbolism in a number of the artist's paintings, including The Encounter, where a woman comes in from the woods of the unconscious carrying a dangerous secret.
In the Varo book, Dennis looked in some detail at an important dream Varo recorded in her only published diary. This was an encounter with an executioner ordered to kill her for possessing a secret so dangerous the fabric of the world would be destroyed if everyone knew about it.  Varo's Dream of the Executioner is the focus of the second half of today's presentation, which includes PowerPoint presentation, art-based experiential exercise, and a closing ritual. The aim is to explore the symbolism in Varo's dream, which communicates piercing truths about the way patriarchy silences women and cuts men off from intimacy with others and with themselves.
In the second half of the program Dennis and Rebecca also explore the presence in Varo's work of the Kore goddess, an archetypal presence who helps us discover what Safron Rossi has called "the ground of our own values, ideals, and emotional reality."
As we weave our way through Varo's imaginal world as she brings forth the kore in herself and her work, Dennis and Rebecca pause frequently to make space for comment and reflection.  Through image, idea, and imagination, the intention is to thread into our own lives what Varo's alchemical practice of painting might offer us as individuals and as a collective.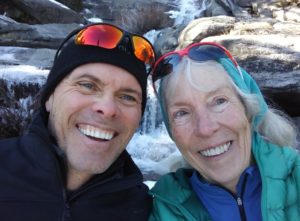 Dennis Pottenger is a Jungian-oriented psychotherapist in private practice in California.  Dennis studied psychotherapy at Pacifica Graduate Institute and works often with trauma, identity, and diversity issues.  An award-winning literary journalist, Dennis is the author of Alchemy, Jung, and Remedios Varo: Cultural Complexes and the Redemptive Power of the Abjected Feminine (Routledge, 2021), and Great Expectations, a season in the life of a professional football franchise (Prima, 1991).  On a personal level, Dennis is a proud step-father to four multi-racial children (Alisha, Veronica, Coreana, and Jasynte) and step-grandfather to Ezra, who is 3 years old, and Ariah, who will be 2 years old early next year.
Rebecca Livingston-Pottenger is a Jungian-oriented psychotherapist and Adjunct Faculty Member at Pacifica Graduate Institute, where she advises MA candidates and edits master's theses and dissertations.  Rebecca is a feminist scholar and gifted intuitive healer who has practiced and taught Reiki, a hands-on Japanese healing art, for more than 30 years.  Rebecca loves to work with women in small groups and with individuals.  She facilitates intimate, transformational retreats using experiential modalities ranging from movement, vocal, and creative practices to guided visualization and Tarot. Rebecca brings extensive presentation skills to the Varo material, having given papers at several conferences hosted by the Jungian Society for Scholarly Studies over the past decade.