JUNGIAN BOOK DISCUSSION SERIES BEGINNING APRIL 30 LED BY ETHAN FINLEY
April 30 @ 3:00 pm

-

4:00 pm

EDT

Free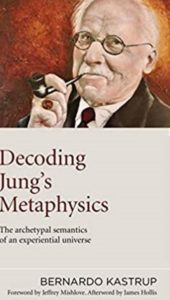 Led by Ethan Finley, a Jungian oriented therapist, JACO Board member and JACO office manager, this series of zoom meetings will focus on the book, Decoding Jung's Metaphysics: The Archetypal Semantics of an Experiential Universe by Bernardo Kastrup. The series will start on Sunday April 30th from 3pm to 4pm and continue bi-weekly on Sundays from 3pm to 4pm until we've finished the book. This event series will be offered for free though donations are welcomed. A brief description of the book and author is below.
More than an insightful psychologist, Carl Gustav Jung was the 20th century's greatest articulator of the primacy of mind in nature, a view whose origins vanish behind the mists of time. Underlying Jung's extraordinary body of work, and providing a foundation for it, there is a broad and sophisticated system of metaphysical thought. This system, however, is only implied in Jung's writings, so as to shield his scientific persona from accusations of philosophical speculation.
The present book scrutinizes Jung's work to distil and reveal that extraordinary, hidden metaphysical treasure: For Jung, mind and world are one and the same entity; reality is fundamentally experiential, not material; the psyche builds and maintains its body, not the other way around; and the ultimate meaning of our sacrificial lives is to serve God by providing a reflecting mirror to God's own instinctive mentation. Embodied in this compact volume is a journey of discovery through Jungian thoughtscapes never before revealed with the depth, force, and scholarly rigor you are about to encounter.
Bernardo Kastrup is the executive director of Essentia Foundation. His work has been leading the modern renaissance of metaphysical idealism, the notion that reality is essentially mental. He has a Ph.D. in philosophy (ontology, philosophy of mind) and another Ph.D. in computer engineering (reconfigurable computing, artificial intelligence). As a scientist, Bernardo has worked for the European Organization for Nuclear Research (CERN) and the Philips Research Laboratories (where the 'Casimir Effect' of Quantum Field Theory was discovered). Formulated in detail in many academic papers and books, his ideas have been featured on 'Scientific American,' the 'Institute of Art and Ideas,' the 'Blog of the American Philosophical Association' and 'Big Think,' among others.
Click HERE to take a closer look at the book. scroll below to receive a link to join the discussion. We are most grateful for donations (suggested $20 but please know you are welcome to attend even if you can't or aren't ready to donate at this time).
Tickets are not available as this event has passed.