A June Art Exhibit Retrospective Featuring Artist Jim Slouffman
June 6 @ 8:00 am

-

June 30 @ 5:00 pm

EDT

Free
Enter the Tabernacle
To view the slideshow click here: June Retrospective Slideshow Featuring Artist Jim Slouffman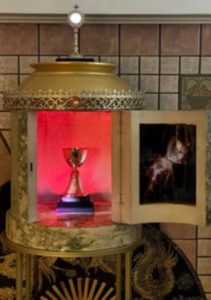 We just have to exclaim over Jim Slouffman's Second Saturday May 13 spiritual art experience. He traveled from Cincinnati with his opera singer wife Caroline, to follow up his Fall 2022 JACO virtual art exhibit with the spotlight on his tabernacle. What a sacred term! Tabernacle! So many reverent meanings across cultures. Consecrated! Jim received a tabernacle as a gift. It had been part of a church sacrament but was deconsecrated when the church closed and found its way to this devoted artist. He reconsecrated it as an image of the divine within.
Jim shared the story of how he received the tabernacle and how he re-fashioned it to be a symbol of meditative power. A relic without. Within, the chalice. He added hidden lights. The door to the tabernacle – on the inside he imprinted the butterfly nebula (image captured by the Hubble spacecraft).
"The great mystery of the Butterfly Nebula on the inside of the tabernacle door? A new vision of eternity inward and outward? THE BIRTH OF A NEW GOD IMAGE? Possibilities!" The Butterfly Nebula is a cosmic wonder with a wingspan of three light-years and a scorching hot central star. What a perfect symbol of rebirth. We can go deeply into this image and find hope.  Jim explained how meaningful this work has been to him and invited participants to travel to the outer realms of the cosmos to find connection, beginnings, endings, and the promise of teleological essence.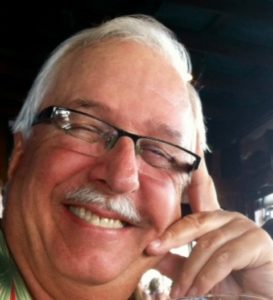 Jim Slouffman has spent his entire creative life in pursuit of inner awareness. His paintings and drawings serve as investigations of symbols, nature and ideas that move the spirit. The sources of his inspiration are personal realizations (Gnosis) nurtured by his in-depth studies of psychology, mythology, metaphor, philosophy, music, and spirituality.
Recent ideas that have influenced his imagination are many and include the eternal feminine, sacred geometry, alchemical and archetypal symbolism. His works often reflect the symmetrical and centering power felt in mandalas and mystical contemplative art. His use of gold & silver leaf and gold painted elements speak to his spiritually creative style.
Jim has been an artist and educator for more than 50 years. He received his BFA from Wright State University in 1972 and his MFA from the University of Cincinnati in 1976. He is a member of The Greater Cincinnati Friends of Jung where he has presented on a variety of subjects. His artwork is in collections across the United States and Europe.
Tickets are not available as this event has passed.